chesterfield
community Church
We're closed for a brief hiatus
With all that's been going on, it's been a trying time to say the least. The good news is that God's been with us through it all and we're thankful for His daily grace and guidance.
With what seems like a slight resurgence of illness in our community, we will worship from home through the end of January and allow our congregation time to heal and feel more comfortable worshipping in person.
Please feel free to "tune in" on Sundays where you may watch the service via Facebook or on our website:
We look forward to seeing you "in person" again soon!
church is open!
weekly church service
sunday@11am
and on line
​
sunday school
9:45AM EACH SUNDAY
Yeah sure, we're different in a lot of ways. We have young people, older folks and twenty and thirty somethings. We've got a lot of kids running around and we consider that a blessing.
You'll find professional couples, stay-at-home moms, blue collar families and just about every other type of person you can think of.
Sure, we're different...but not so different from one another, because the love of Christ binds us together and makes us one...like a family.
When we say we're different, we mean different than the world. You see, we can overcome our differences within the church because we follow the examples of Jesus.
Won't you come and follow too?
giving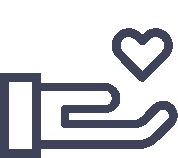 "Whoever is generous to the poor lends to the lord, and he will repay him for his deed."